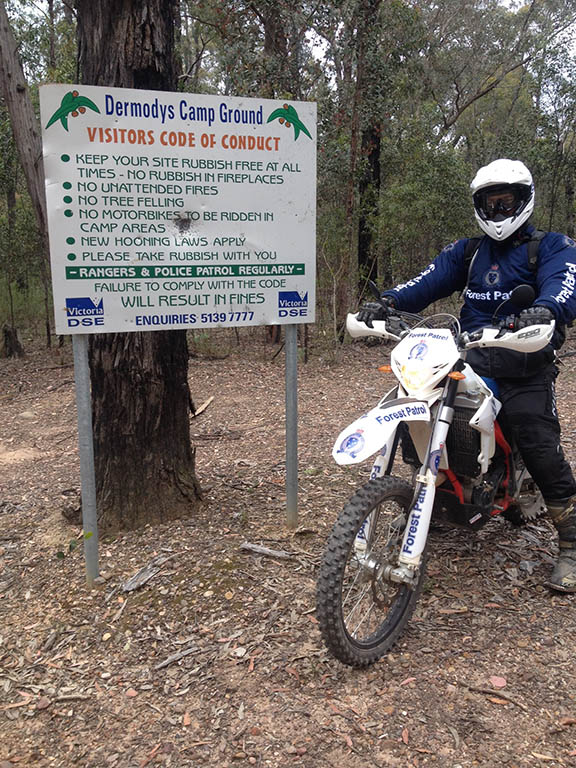 Whether you are camping, walking, riding or driving in Gippsland's State Forests this Queen's Birthday long weekend, Forest Fire Management Victoria (FFMVic) Authorised Officers will be asking for your help to ensure everyone has a safe and enjoyable time.
FFMVic Acting Assistant Chief Fire Officer, Richard Teychenne is encouraging everyone to do the right thing, obey the law and show respect for all forest users.

"We will be out patrolling across Gippsland State Forests this weekend and we'd like to see everyone sticking to driving and riding on roads and tracks, camping at designated areas, cleaning up after themselves and keeping an eye on campfires," Mr Teychenne said.

"With the colder weather starting to set in we know many visitors will be lighting campfires to stay warm, so we'd like to remind everyone that despite the chillier conditions it is still just as important to keep a safe watch over your campfire, never leave it unattended and do not illegally cut down trees or vegetation.

"If you aren't sure about how to safety light, maintain or put out your fire, we encourage you to plan ahead and check the guidelines online at www.ffm.vic.gov.au.

"Our Authorised Officers will try to get to as many sites as possible over the weekend, but Gippsland has over three million hectares of public land so we can't be everywhere at once.

"So if you see something, say something and report details on irresponsible or illegal behaviour at our recreation sites to Crime Stoppers on 1800 333 000 or to DELWP on 136 186.

"That information could include details on what, when and where it happened, the number of people and vehicles involved, registration numbers and photos if it's safe to take them.

"Most importantly though, we hope everyone who visits Gippsland's State Forests this long weekend has a fantastic time enjoying this special part of Victoria.

"You can also expect us to come over for a quick chat to seek your feedback on what type of facilities, infrastructure and opportunities you would like to see in Gippsland State Forests into the future."